username : senoritakayli
new LJ ...
kaylistar89
's LiveJournal
(Of users in friends list)
_______________
Report generated 05/26/2007 9:31:21 PM by
scrapdog
's
LJ Comment Stats Wizard 1.7
try to get in my top ten !
Top Commenters on
toronto with chynna; sunday august 13th; 2006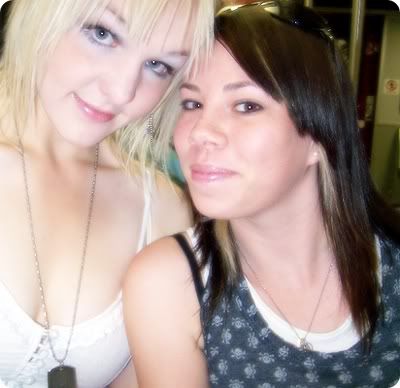 in the subway with my dear

today, chynna and i went to toronto. it was fun, hehehe. i didn't buy as much this time though. i bought these cute straight thegged lepord pants and straight legged jeans. . . and a shirt from h&m. i love that store so much :)

after that we took the subway to finch terminal. when we were on the bus, we saw this funny old chinese woman who kept falling asleep and had crumbs all over her face. she was cute. then we had to take the bus to pacific mall.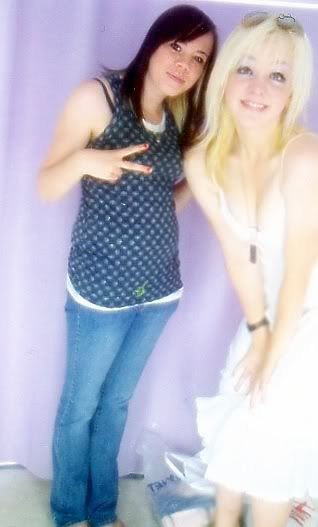 me and chynna

we took some purikura. we paid and the machine's monitor wasn't working. the hot worker guy tried to fix it himself but that didn't go over too well.. haha. so he asked us to leave the booth for a minute, and he beat the shit out of it, ahaha. loudest fucking noise ever. this man had muscles, baby. he must have been smashing it for 10 minutes. after that, it worked for about 5 minutes and cut out again, hahaha. whatevvvvs. we took hot pictures.

on our second run we got the bright idea that we should kiss. so we did :)




ahahaha, chynna was the one that wrote "we love eachother" on there. i thought that was so cute. lmao, i love her!

after we went to the p-mall, we went back to the bus terminal where we slept for an hour on the way home. when we got to her house, we ordered pizza and bought a 20 bag off her dad. hahaha, he gave us a fat count too. we were gonna smoke it all with her mom, but my mommy wanted to pick me up. boo, so i was nice and gave chynna a cut, and went home. we're gonna smoke it after work on tuesday i suppose. if i can last that long, ahaha.

... and now i'm here. i'm gonna go out for shopping or something with misaki tomorrow. i don't want to go shopping though. i'm so sick of it, aha. maybe i'll bring her to my house instead. :) see yooou
Clifton Hill w/ Edison
April 29th, 2006


We decided last week that we would spend our day floating about Clifton Hill. In case you don't know what Clifton Hill is, it's a big tourist area around the falls with so many fun things to do. Last night we had a big misunderstanding about what was our plan. Edison ended up getting an interview at Comfort Inn at 3:30, right in the middle of our day so that messed up our schedule. Then was our little fiasco about how we were gonna get there... Edison didn't have to give my mom the trouble of picking him up and dropping us off at the Hill. So he wanted to cancel the whole thing all together. This was at 1:30 in the morning, I was tired, he was tired, and I couldn't get any answers out of that god damn kid. This made me get very angry/emotional/frustrated which led to me almost losing my mind. I hadn't worked out in 3 days as well, I hadn't taken out my anger yet xD So I slept on it and was fine again by morning. We had the whole fiasco again because he didn't want to bother my mom, but I won him over.




We got to the hill and went to some Frankenstein Haunted House thing. Oh man, that was a mistake. That thing was fucken scary. I walked in and I was holding Edison so tight the whole way he could barely walk, haha. All the way through there were these wind things blowig up my skirt and I swear to god all the people below could see me and my Betty Boop thong. On top of that there was this scary-ass werewolf thing that chased me down the dark hallway and I swear I was an inch away from punching it in the face. Oh man, I was crying haha. Fucking dogs and darkness... I could swear that werewolf grabbed my ass but that could as well have been the guy behind me. By the time I got out I was so exhausted. I was sweating, my hair was ruined and my make-up was running.

I fixed myself up and we ran our little butts over to the Secret Garden. Edison wanted to see where Kazu and I got it on way back last year. I showed him and he inspected that seat like freaking Sherlock. He got so jealous so I had to cheer the poor boy up. You know, he was never a jealous guy until today when I took him there. He always asked me about my past but he never started to be concerned about it until today. I got over my sensitive guy phase but this was so cute~ Then we made out in the park in front of little asian children.




We were about to leave to go to his interview when I saw Chad. :O Chad used to work with me back at ROOTS. The first thing I asked him was "...Can we have free food?" Haha, he works at the Secret Garden restaurant and we were both starving. He said "Yeah, sure! Just come on in" Edison being the stupid doink he is wouldn't let us go back because he didn't want to accept free food from my friends... Damn this kid and his morals.

That issue aside, we walked over to the Comfort Inn and I sat my ass down on that couch and waited for that homo when he was in his interview. You know, before he went in all I could think of was.. "Shit, theres no way they're gonna hire this kid". His English isn't good enough to be able to be a waitor and bus boy, but when he came out he let me know all what they said and I was so surprised. I think this guy might get a job, and I'm so proud of him. xD




After that was done, we went to the Midway. That's the big arcade down on Clifton Hill~ Edison wanted to make some sticker pictures with me. This is the first time a guy actually proposed to take these pics. I've never been in a relationship where he's actually delighted to take these, lordy.

So, we got hungry. And in the Midway there's a Boston Pizza. What we really wanted was Subway but that was too far. Let me tell you, I aint walkin no mile for no sandwich when I can walk 10 feet and eat my weight in grease for a pizza. Oh, it was the most delicious pizza as well. We were sitting and drinking our iced tea when I thought it would be a good idea to stir things up and kiss his neck and ears. WELL.




This was the smartest idea ever, man. Edison got so horny that we couldn't wait any longer, ahaha. We thought about wlaking home and hitting it but that would take 20 minutes. So, we walked for 5 minutes back to the comfort inn and did it in the family bathroom, ahahaha. Why buy a room when you can do it on a sink for free? :O But YO! I'd totally do it again~ It tied us off before we could take that long walk to his place where, yes. We hit it and hit it again. Thanks. The End.
So... Who's coming to

GARDEN CITY ANIME FEST?


...Me. :)




I know, I know. I promised myself I would never go to that sticky showerless dungeon of anime weirdos again, but when I look back on it I realize it's where I met alot of people. You know, Jon, Mint, Chu, Rabid Paki Horndog... I miss them. So I beleive that it will be a good experience to go again. At least it will give me a chance to see how much I have changed in as little as a year. When I remembered it was coming up I thought, oh holy shit! It's been a year already?

I look rabidly different so I wonder if my dream man will remember me, ahahaha. If Monika comes with, I'm sure he will. :P
EDIT:
http://www.literotica.com/comics/princess_3d/trailer/princess_has_come_of_age_trailer.mpg
Dresden Dolls: chillin' out, maxin', relaxin' all cool.. says:
it's called Princess 3D
Dresden Dolls: chillin' out, maxin', relaxin' all cool.. says:
it's an ACTUAL MOVIE
Dresden Dolls: chillin' out, maxin', relaxin' all cool.. says:
its like best selling somewhere
Dresden Dolls: chillin' out, maxin', relaxin' all cool.. says:
OFLROFLROFLRFL
kayli // kinky night lmao says:
OK IM WATCHING
Dresden Dolls: chillin' out, maxin', relaxin' all cool.. says:
oh man it's SO MESSED
hahahahahahhahaa
Dresden Dolls: chillin' out, maxin', relaxin' all cool.. says:
you'll die at the characters
kayli // kinky night lmao says:
im watching!
Dresden Dolls: chillin' out, maxin', relaxin' all cool.. says:
HAHAHAHAHA the elf
Dresden Dolls: chillin' out, maxin', relaxin' all cool.. says:
man that elf is STACKED
Current Location:

Niagara Falls

Current Mood:

full

Current Music:

Rihanna // SOS
G-Man's First Haircut ♥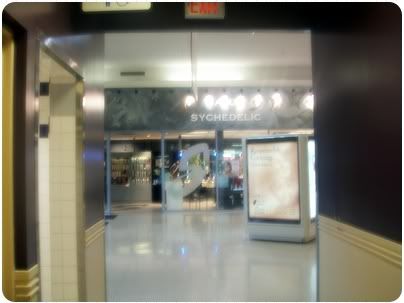 This wonderful day started off with me dragging my lazy ass to work at 10 o clock in the morning until 2. I picked G-Man up after work and we went down to the Niagara Square. He hadn't had a hair cut in five months since he came to Canada, so his hair was down past his eyes, so we decided we'd get this man a haircut. He was so nervous before-hand, I couldn't go for 10 minutes without hearing whimpering about how scared he was about his god forsaken hair, hahaha. So when we got there he realized he only had 20 dollars to his name, and we came to the conclusion that if he didn't have enough money I'd pay his petty change since my money-making scheme is working so well for me. (Ask me about this in IM... UNTRACEABLE!)




We signed in at Salon Sychedelic, where Shogo used to go for his haircuts, and found out we had to wait for half an hour before the hairdresser would be ready to cut his hair. So we went shopping for slutty clothes. We marched our way down to Urban Planet where I chose a delightful little number. And let me tell you, it was little. xD I'm getting ready for my Summer Skankfest 2006. ♥ The look I'm going for is kind of like... Bohemian Chic meets Slutty Whore. I'm slowly making my way into that category, but money seems to be the problem. xD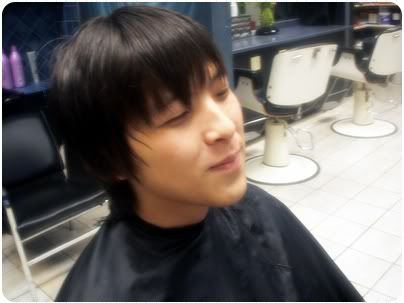 We went back to the hairdressers and waited for a few minutes until the last person was done with their hair. G-Man was a wreck, he was shaking and his face was going pale. He sat down and the lady put the smock around him, wet his hair and made the first few cuts, after that he seemed allright again. I'm sure taking pictures didn't help the situation, but meh. What are you gonna do? :P Him and the stylist had enough fun talking about seafood for him to worry much anymore. I didn't realize how long his hair was until I saw it covering the floor. It was everywhere! His hair wasn't even down to his shoulders, but this guy was packing alot on his head. xD When we finished, G was so releived it looked like he was going to cry, the poor guy. I knew he was worrying about getting his hair cut, but I didn't realize how much he was actually worried. ;0; Oh, G ♥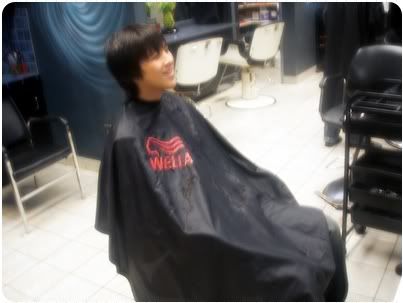 So we went and made our way to the shoe store. He told me about how there isn't any out of the closet gay koreans, and how much he wanted bright pink and yellow open-toed sandals but he couldn't wear them in Canada. If he wore them in Canada people would think he's gay, but since in Korea there's hardly any gay population, he can wear them there without being made fun of. He helped me pick out some skanktastic high heels, but they fit oddly, so I gave up on them. As well, I didn't say anything to him, but he kept looking at ballet slippers... Cutie Kid. ♥




Near the end of our shopping experience, I could hear his stomach growling from the other side of the mall so I bought the boy some Subway as a surprise. He had to play basketball after we finished shopping so I didn't want him to get hurt or something because of how hungry he was ... I know, I'm a nice girl. :) The only problem was, the sub was too big for his mouth and the guy who made it forgot to cut it in the middle. So G had to pick up the entire foot long sub and shove it in his mouth.

...Looked kinda like he was eating a black man's weiner. ♥
Current Mood:

full

Current Music:

Usher // U Got it Bad
Today I was working an 8 hour shift, and I must say, was not so bad. I was feeling quite parched and inches away from getting a drink when the Japan Mens National Gymnastics team walked into my store. At first when they came in, they were wearing these weird-ass white puffy jackets, so I though "What the fuck kind of spaceship did they get off of" then I read their jacket and it said JAPAN! I was like woah! And they're like woah! blonde girl! So I said KONNICHI WA! WOO! JAPAN! to one of them and the whole team ran over ahahaha. I felt like Britney Spears, yo. Even though it was raining, it was a BEAUTIFUL day today. :P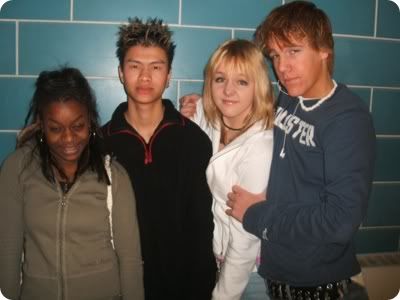 (kelesha, leo looking like an old fart, me and john)

Last week, Michael and I went to Urban Planet. Michael only had 50 dollars to spend so he decided he'd pick a bunch of things he liked to try on anyhow. Little did I know that he would stuff all the clothes he wanted underneath his sweater. He took 4 Tshirts for himself and took a tank top for me too. :) Aww, stealing stuff for me, how nice. He bought a jacket to make it look like he was a paying customer and then we left and got some lovely pita's from pita pizzaz. I have to say, Niagara Square is stepping up! ...But not on security :P

I got my travel and tourism exam tomorrow! I'm pretty sure I'll do aiight. After my exam, I'm gonna walk down to the mall with Michael to buy some clothes. But we'll see what we actually buy. Then gotta work from 3 till close and hopefully some more hotties walk in because HOT DAMN they were FINE!! ...Speaking about fine boys, I've decided to move the date of my study abroad to Summer time. I'll go to Japan in Summer and stay until winter, I'm thinking. :) Sent in the application on Wednesday, so I'm just waiting for it to get to Montreal! Woooo~
Current Mood:

happy

Current Music:

Peaches- Operate


I kept my cool, and for that, i am proud.
Yo, so, today I went to Tom's house~ you know, no big deal. When I was getting ready to leave a whole fucking pile of hot chinese come into his house. A whole PILE! There was like 10 of them. One was so motherfucking hot. He was about 6 foot 3 and a professional swimmer. Top 12 in China! It took every ounce of stregnth in my body not to pounce all over his muscular body. He was visiting Tom's place because he had a championship in Toronto to win, and stopped by for a visit. God knows who the other 9 were for i couldn't hear through their broken english and sexy accents but all i know is they were FYYYYNE!!!
Current Mood:

happy

Current Music:

Marilyn Manson // Tainted Love
New Years Eve

(Michael, me, Cong)

So it started like this~ I went into work from 10 until 2 looking like a dirtbag only finish with a cellphone message from Cong saying that he's coming over at 3:00 to play Mario Kart. LMAO, this man doesn't even give me enough time to clean my house let alone my dirty self before he plops himself down on my ugly sofa, ahahaha it's kind of funny when I think about it. So I decided, screw it, I'm not cleaning up shit, he can live with it for not giving me much notice ahaha. Within half an hour of coming home, there he was! He didn't scream with fear from seeing me in my work clothes and no makeup so I thought of it as a good sign.



(Drunk Cong)

So, to make a long story short --- We played every videogame in my house. Then who shows up by surprise? Michael Cabana. We played more videogames, then realized. Oh, shit! It's New Years Eve isn't it. We started watching the Exorcism of Emily Rose but Michael got bored and started beating me, so we switched to Jackass so he'd keep his attention on that. We had eating competitions with hamburgers and party mix till I brought down some goodies.




The Devils Liquor. Oh man, it was strong. We tried mixing it with EVERYTHING, then Cong was smart and told us to water it down. I never want to taste cinnamon again, so rank! =0= We drank that for a while and then switched to Coors Light. It was DISGUSTING! But I decided, bah! It's New Years Eve, who am I kidding, and drank it anyway.




Michael got so drunk. I thought he would've been an animal but he was unusually mellow. He fell down the stairs a couple times, and locked himself in the bathroom when the door wasn't locked. Oh, he also wore my mothers clothing he found in the laundry room... Cong didn't get so crazy. He just ate alot :) But that's okay~ They left eventually, but they had to walk home. Michael almost got killed by a crack dealer and Cong pretty much ran the whole way. Why? He doesn't know either.
I talked to GMan today and he was so upset. He spent New Years all alone and I feel so bad. He told me he spent the countdown crying because nobody was there to spend it with him and it's his only New Years in Canada. I tried to cheer him up, but how could I really? ;0; Ooooooh... What do I do...
Current Mood:

happy

Current Music:

Afroman // Let's all get drunk
Just thought it was relevant ^0~/






(

I'm not wearing anything under my kilt!!!! :OCollapse

)




Coolest Scotsman you'll ever meet. He came to school late and there he was. xD "DON'T SAY ANYTHING!" LMAO! This guy... Ahahahaha. He wasn't wearing anything under his kilt and offered to show me for 5 bucks. xD No boxers, no tighty whities, nothin. When my dad saw him he laughed so hard he almost pissed himself. My dad is from Scotland, so he thought a chinese guy dressing up as a Scottish man was the funniest thing he's ever seen. "Damn! He's even got the socks!" My dad pulls his socks half way up his legs too =0=/ Old man.

But speaking of Cong, on Saturday or Sunday I'm gonna go up to his house and paint his room baby blue with him. xD I told him baby blue was a bird colour but he won't beleive me, so I guess we'll just wait and see. =/
Current Mood:

happy

Current Music:

Miyavi // Shindemo Boogie Woogie